Welcome to Kutchire Lodge
We are thrilled to announce that we have been honored with the prestigious Leading National Park Lodge Award. This recognition is a testament to our commitment to preserving the natural beauty of our surroundings and providing exceptional service to our visitors.
Your votes have not only contributed to this achievement but have also shown your unwavering support and belief in our mission. Each vote was a powerful affirmation of the work we do, and for that, we are profoundly grateful.
This award is not just a symbol of our efforts, but it is also a reflection of the trust and confidence you have placed in us. It is your votes that have made this possible, and for that, we are eternally thankful.
We share this honor with all of you today. Your support has been the cornerstone of our success, and this award is as much yours as it is ours.
Thank you once again for your votes and for believing in us. We promise to continue striving for excellence and preserving the natural wonder that makes our lodge so special.
Kutchire Lodge in Liwonde National Park
Kutchire Lodge is located on land that is inside the boundaries of Liwonde National Park Game Reserve.  The Game Reserve offers what is perhaps the premiere wilderness/safari experience in Malawi.  Over 420 different species of wild life are found here, including vast numbers of hippos, crocodiles, and elephants. We offer all-inclusive accommodation in treehouses, luxury chalets, family rooms, dormitories, hammocks and campsites. Whether you want a luxurious safari experience or to sleep under the stars, we have you covered. Staying at Kutchire Lodge, includes breakfast, lunch, and dinner;
OUR FAVORITE ROOMS
Check out now our best rooms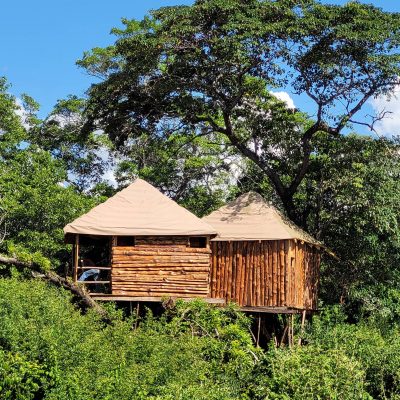 Riverside Treehouse
With amazing views by the river experience nature at a breeze looking over sunsets.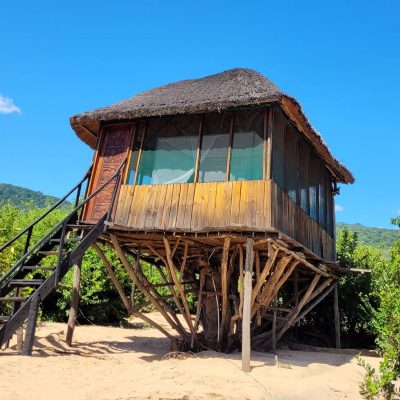 Tree House
Be home away from home with your whole family, create unforgettable memories
Ngoni Huts
Go traditional with your stay, a true Malawian authentic experience in Ngoni huts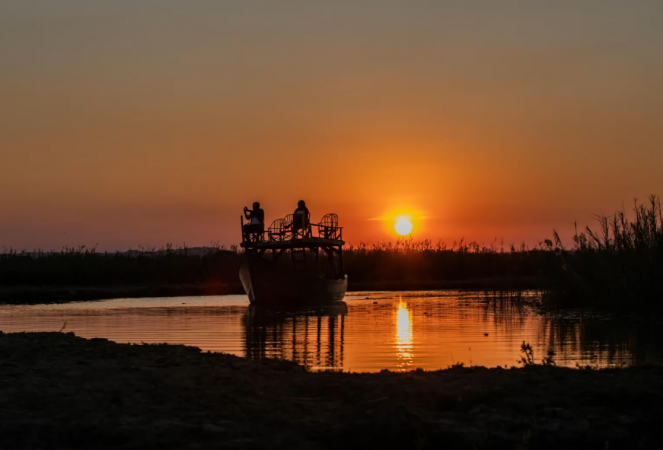 Experience the best of liwonde national park
Take a boat ride in shire river
Everything about Kutchire Lodge will enhance your experience of the natural wonder and cultural beauty of Malawi. Get the chance to see Elephants, Hippos, and different wild animals in their natural habitat while you enjoy the cool wind and beautiful sunsets
TAKE A TOUR
kutchire lodge map
Kutchire Lodge map gives you a view of how the lodge's rooms and activity areas are placed, take a look and imagine the fun and activities that awaits.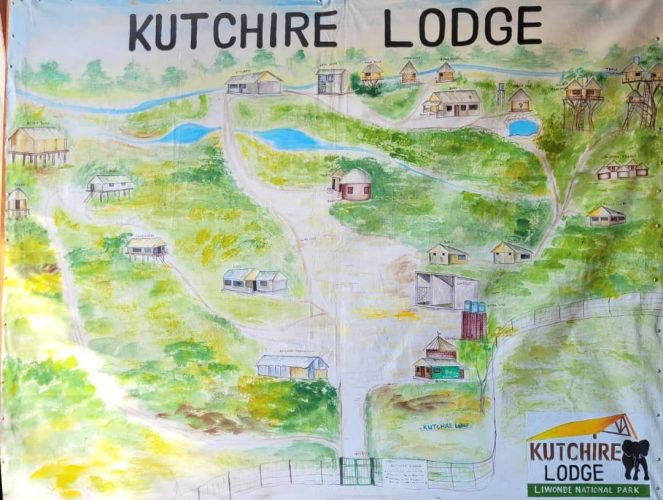 OUR AWESOME EXPERIENCE AND SERVICES
Check out our awesome experiences and services

Game Drive
More experiences and beyond, encounter abundance wildlife at its nature habitat inside Liwonde National Park

Boat Drive
Embark on a boat ride in Shire river with captivating views of sunrise and sunset while Elephants and Hippos swim by

Restaurant
Enjoy your delicious meals with family and friends with a view of the river, Elephants, Antelopes and other wildlife.

Swimming Pool
Residents enjoy a dive in the pool while they listen to the nature sound of wildlife
How to get here
Let us be your guide to Kutchire Lodge
Directions



From Liwonde, head towards Ntaja Road and follow the Liwonde National Park sign posts. You will  see a Kutchire Lodge sign there, turn to the left and follow the signs until you reach a large Kutchire Lodge stone sign. Turn to the immediate right and drive about 300m to Kutchire Lodge! Feel free to call us if you are lost.
We offer free transport to the lodge from Liwonde. Just let us know when you arrive and we will come and pick you up.